FUN FACTS OF BANDUNG
Travel Information About Bandung
Bandung is the capital city of West Java, and the third largest city in Indonesia after Jakarta and Surabaya. Nicknamed Parijs van Java (Paris of Java) by the Dutch for its resemblance to Paris and European atmosphere back in colonial times, Bandung also earned another nickname as Kota Kembang, literally meaning the Flower City since Bandung used to have a lot of flowers. Nowadays, Bandung has become a very popular weekend escape for Jakartans, who would crowd the city on weekends and holidays.
Languages
Mostly Bandung Citizen communicates in Bahasa Indonesia as is the main language for education, business and daily communication. However you may hear Sundanese language commonly use among Sundanese people ( local Bandung people)
Plug and Socket Types
The plug and socket type in Bandung is: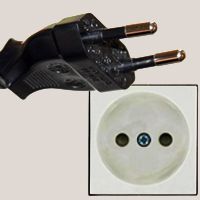 Voltage
Bandung, the voltage for electrical equipment and appliances is 220 V and frequency is 50 Hz.
Time Zone
The time zone in Bandung is GMT +7.
Mobile Phones
The mobile phones in Bandung operate on GSM-900/1800 (GPRS, EDGE)
Currency of Bandung
Indonesia's currency is the rupiah.
You can enquire about the prevailing Indonesia exchange rates at our Front Office cashier.
Visa for Entry to Bandung, Indonesia
Please visit the Directorate General of Immigration to see if you need to apply for a visa to visit Indonesia.
Bandung Weather
Bandung is generally hot and humid. It is warm and humid year round, with the temperature between 22°C to as high as 30°C.
Tipping
Tipping is not practiced in Bandung. As such, you do not need to tip waiters, concierge, taxi drivers or other service staff.
Bandung Banking Business Hours
Most banks are open from 8 am to 3 pm every Mon to Fri and 8.30 am to 11.30 am on Saturday.
Taxes
Most hotels and dining outlets levy a 10% service charge and 11% Goods and Services Tax (GST).
Bandung Tourism Information Centre
You can visit a Bandung Tourism Information Centre for travel tips and holiday information.
Indonesia Customs
Under Indonesia laws, arriving travelers are required to pay taxes if they bring in cigarettes and other tobacco and liquor products or other taxable goods exceeding the duty-free concession and Goods and Services Tax (GST) relief. You can visit the Indonesia Customs Website for more information.